ABOUT US
We are small, home bakery based in Oviedo, Florida specializing in kolaches, cookies, and more! Check out our bakery menu to place your weekly preorders Sunday-Thursday. Orders are available for pickup every Saturday 7:30am-2pm and select Sundays at farmer's market. Keep up with our Instagram or Facebook for latest updates on seasonal flavors and market pop-ups. For custom orders, please email or DM for inquiries on specific items, pickup times, off-menu items, custom cakes, or dessert catering. We offer an expansive dessert catering menu to make a sweets table that wows for your next event. Swing on over to our Instagram and place your order today!
The DOughrk TEam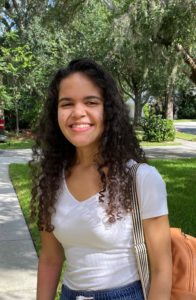 Ivelisse, Lead Baker
I am Ivelisse, the Lead Baker and overall creator of Doughrk Bakeshop. Since I was little I have loved baking, and over the summers would often "open-up shop" to my family. That passion yet to die and has led me from modified box mix cakes and cupcakes to making a wide variety of scratch-made goods. Back in early 2020 I discovered the world of kolaches and klobasniky via my sister, and was hooked on making them. We started joking that I needed to open up my own Kolache Shoppe. After much deliberation, I finally turned that simple joke into reality over the summer of 2021. I am amazed by how fast everything is happening and so thankful to all of my wonderful family for all that they've done for me.
Some basic information about me is that I am currently a senior in high school and, obviously, love baking. When I'm not baking up something in the kitchen or crunching at my schoolwork, I like visiting used bookstores and drawing in my sketchbook. My passion for food doesn't stop at baking, as I am also a massive foodie, and cook dinner every night. It's hard to pick just one favorite item that I make, but I am a die-hard cookie lover and can never turn down a classic chocolate chip cookie.
Ivette
This is my wonderful mother, my biggest supporter and helper. She does it all from helping me package orders, to helping transport goods for pickup. You can find her right beside me at any market pop-up. I am so thankful to have the best mother who is behind me no matter what.